Maison Atia Is An Innovative Luxury Outerwear Brand, Whose DNA Is Rooted In Sustainable Crafted Faux Fur. Its Creations Combine Modern Heritage, Sustainability, Creativity, Playfulness And Style, Turning To Skilled Artisans To Create Timeless Products That Look And Feel Glamorous. Awarded With The Butterfly Mark By Positive Luxury, Maison Atia Continues To Be On The Forefront Of Sustainability Using No-Waste Production Models And Beautiful Sustainable Fabrics Such As Koba (Bio-Based Faux Fur), Recycled Materials And Dead Stock/Upcycled Fabric. Many Of Our Creations Are Easily Transformable And Allow For Two, Sometimes Three, Different Looks In One Coat. Maison Atia Is Available Exclusively Via Its E-Commerce Website And Select Niche Retailers Internationally.
Maison Atia is proud to partner with PAWS CHICAGO; a leading no-kill shelter in North America. With its #BuyACoatSaveAPuppy campaign, every coat sold provides a homeless pet transportation to one of their shelters.
With the onset of Covid-19, it expanded its community engagement through two initiatives - the sale of handmade masks with all proceeds going towards its neighborhood NYC hospital, and the #MaisonAtiaHeroesCampaign. Learn more about Maison Atia's initiatives here.
Chloe grew up in The Fashion Industry, and trained in the Atelier of her father, Gilles Mendel. While working on his inaugural Haute Couture Collection in the summer of July 2016, she decided to bring her family's tradition of Quality and Craftsmanship to faux fur. At that time, virtually no brand had that approach! While raising her children Augustus and Clementine with Partner Billy Corgan, Chloe embodies Maison Atia's creative force in all aspects of her life!
Gustave remembers doing his homework in his mother's Luxury Strategy Consulting firm, deciding at age eight that he would pursue a career in this field! After Carleton College, he followed his dream and started at Hermès as a Fragrance Specialist. When his friend Chloe asked him to become her business partner, he did not hesitate one second! Now armed with an MBA from Columbia Business School, Gustave feels even better equipped to bring Maison Atia to its full potential.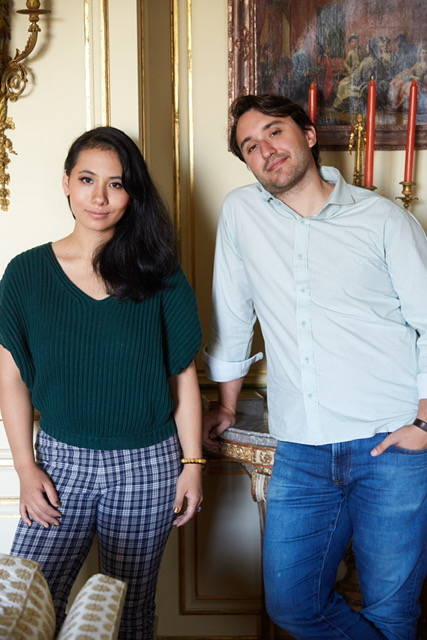 Every Coat Sold Rescues a Homeless Pet in North America through our partnership with PAWS CHICAGO a leading
no-kill shelter

All coats are made with sustainable materials that are 100% recycled water bottles, plantbased or upcycled using deadstock fabric and produced with a zero-waste production model.

Old-school techniques applied to modern materials.
Redefining luxury